Updates and backups are an important part of caring for your WordPress website. You've done all the work getting things set up like you want them, so it makes sense to maintain it.
This means you'll want to protect it by keeping up to date with the latest WordPress updates. And you'll want to do periodic backups of everything, just in case.
WordPress Updates
The WordPress software that runs on your site will have periodic updates. These updates include things like new features, or sometimes they're to fix security issues. It used to be that you had to manually do all of the updates but the latest versions of WordPress will try to keep itself up to date for you. Three things get updated in WordPress:
WordPress itself
Your plugins that you've installed can also have updates.
Your theme can also have updates.
You can also do the updates yourself from your Dashboard under Dashboard > Updates.
On the updates page, you'll see whether or not your version of WordPress has an update, and a button to update it or to reinstall it (if it's already up to date)
Before you update, make sure you create a new backup before you begin. More on backups next.
Most hosts also do backups of your site, for example If you're using siteground they backup your site for you as part of the hosting service.
I recommend that you also maintain backup of your own site in addition to this. You may never need a backup but if you do, you'll really need it and having your own is an extra layer of security to protect your hard work.
Backups for your WordPress Website

For this we'll use UpdraftPlus WordPress Backup Plugin.
Head over to your Dashboard's Plugin page and click install new.
Search for "UpdraftPlus WordPress Backup Plugin" and click install.
Once it's installed, click the Activate button. You'll see this on your screen: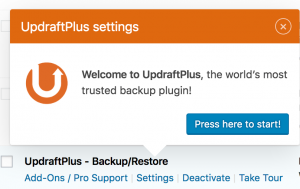 Click Press to Start and you'll be taken to the Updraft page in your Dashboard where you can make your first backup. Click Backup Now.

Next you'll see an option screen. Be sure to choose: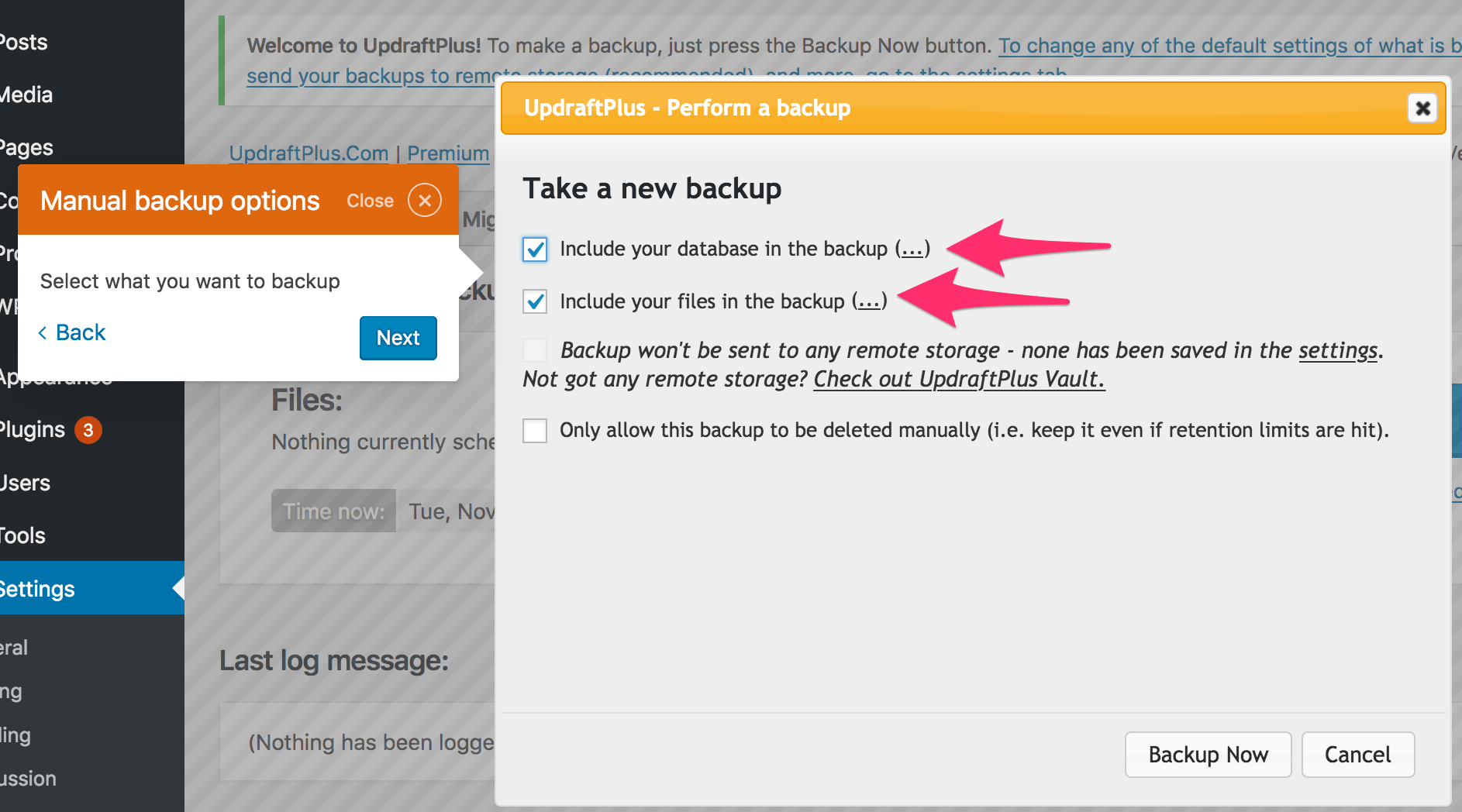 Include your database in the backup
Include your files in the backup
A complete WordPress back has to have both the database and the files. The database has all of the settings and the content of your pages (the text) and the files includes anything you've uploaded to your site like images, pdfs and other files like the WordPress files, your theme files and the plugins, all of the source code that makes it run.
You need both of these to restore a copy of your site!
Click Backup Now to begin the backup. You'll see a progress bar with the status while it's working and when it's finished, a message will appear and you'll see the backup in the Existing Backup section of the page.
This backup file lives inside of your WordPress install on your host.
To be even safer, lets look at the Settings on your UpdraftPlus page. Here's where you can send a backup to another location such as DropBox or Google Drive instead.

The free version lets you choose one destination, their paid version will allow you to choose multiple destinations.
I recommend using a service like DropBox or Google Drive to store your backups, since that's separate from your website.
Also on the settings page, you can create a schedule for your backups so they'll automatically happen. Choose weekly or monthly depending on how often you make changes or add things to your site. If you make blog posts often, you may want to set backups to be more frequent.
Further down on the settings page you can check a box to have an email sent to you when a backup is completed.
The Premium Version of UpdraftPlus
You don't have to upgrade the plugin to get backups of your site but there are some really great features that come with the premium version of UpdraftPlus:
The premium version of the plugin will let you schedule the backup for a particular time, so you can schedule backups to happen overnight or when your site isn't as busy.
The premium version of the plugin will also do a pre-update backup of your site automatically before any updates are run.
The premium version is $70/annually for 2 websites (at the time of this writing).
You can get it here: UpdraftPlus