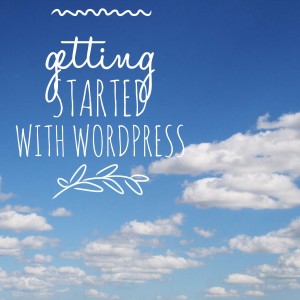 First of all, welcome! This is the first post in the getting started series. You can sign up here to know more about the other posts in this series, as they get added.
Some of you may already be past this point – but we are starting at the very, very beginning of what you need when you get started with WordPress, so bear with me for the first few posts as we set things up. If you're already set up with a site, follow along and be patient, will be looking at design and themes and things before you know it!
The Basics You Need to Begin
To get started you'll need a few things. Below is a list of the basics:
A computer with internet access.
A valid email address.
You're probably thinking, "Is this it? I thought it would more complicated."
With these three things you can start your blog and begin publishing. Lets look at each of these things:
A Computer with Internet Access
Of course it goes without saying you'll need a computer. Working with a WordPress site doesn't require anything proprietary, no special software or anything – so you'll be fine if you have a Windows PC or if you have a Mac.
As long as you can get online, and have a browser you can do the basics. You'll want an up to date browser, but it doesn't matter if you like Internet Explorer, Firefox, or Chrome – that's your choice, work with whatever you're comfortable with. I use Firefox most of the time.
There are some other utilities and tools and such that you'll probably want, they're optional but they can make your life easier as you add posts and things to your blog. You'll find these at the end of the book here.
A Valid Email Address
You'll need an email address to setup the various accounts you'll be creating. This email address will be where you'll receive information about your accounts like login details, invoices, receipts and such. You can use a gmail account for this, or Yahoo, or one of the other free services.
A Domain Name
Your site will need a domain name. These can be registered by the year and gives your site it's own name. Many writers choose something like their name. For example, mine is LisaBrown.com but my business domains are WPAngel.net and BUnlimited.com. The .com version is first choice and the one to go with if you can. We'll talk about the process of registering a domain, more coming up.
A Hosting Account
Your site also needs a place to live online. This is what your hosting account provides. It also can provide email service for your domain if you choose to use it. Hosting and domain registration are sometimes bundled together, but they are separate services and I like to keep them separate, more on that later, too.
Coming up next in the series: Organizing your site details and a look at registrars and domains then hosting.